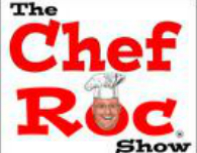 Celebrity Chef Roc has been seen and heard around the world for over 30 years. With over 2,500 TV and radio appearances on shows like ET, Headline News, The View, CBS This Morning, Regis and Kathie Lee and his syndicated Chef Roc TV Show currently airing around the world.
The Chef Roc & Friends Radio Show features Co-Host Chris "The Common Man" Johnson, live cooking segments, cocktails, Celebrity Jocks, musical guests and fun.
Chef Roc and Friends will broadcast live from our San Diego Studio and will be videocast on Livestream, Spotify, iTunes, Podcast, Facebook Live and YouTube.